Company information
Through EX-polyP®, towards the environment that everyone around the world can easily maintain health and prevent diseases.
Message from the president
With the increase in ageing population in recent years, the interest in extending a healthy life span is increasing. If we can live a healthy life even at old age, not only we can fully enjoy life but also contribute to the reduction of medical expenses of elderly people, which is becoming a major social problem. In order to prolong the healthy life expectancy, it is necessary for each and every person to maintain good health and prevent diseases. However, there is no such methods that anyone can easily conduct daily, or such products that sufficiently help people achieve this goal. Therefore, RegeneTiss, through research on EX-polyP® which has an important role in tissue regeneration of living organisms and product development using it, strives for the environment that anyone in the world to maintain health and prevent diseases.
EX-polyP® is a polymeric substance present in the human body. Other than regeneration promotion, its functions are diverse and has important physiological functions that are not yet discovered. In fact, new functions of EX-polyP® are being elucidated at universities overseas, and some academically important discoveries have been revealed.
RegeneTiss not only advances research and product development using EX-polyP®, but also supports EX-polyP® research actively conducted in universities and research institutions around the world.
Through EX-polyP®, we perform new research and product development, and produce reliable products so that further healthy life extension will be possible in the future.

Introducing the president
President, Toshikazu Shiba
After completing a Ph.D at the Graduate School of Medicine (Doctor of Medicine) in Osaka University, he worked as a postdoctoral researcher in the laboratory of Professor Arthur Kornberg in the Department of Biochemistry at Stanford University School of Medicine, USA (awarded Nobel Medical Physiology Award in 1959). He was the first Japanese to start research on polyphosphate in vivo. After that, he was appointed as an assistant professor at the Hokkaido University Graduate School, where he continued his research on polyphosphate. Based on the polyphosphate research, he established a venture company, and is currently engaged in research and development as the president of RegeneTiss, Inc. At the same time, he is continuing his research on the physiological function of polyphosphate as a visiting professor at Stanford University School of Medicine.
Company profile
社名

リジェンティス株式会社

本社・岡谷工場所在地

長野県岡谷市川岸西1-4-1

東京事業所
所在地

東京都国立市東1-7-20

電話番号

042-577-7777

FAX番号

042-577-7771

米国法人

RegeneTiss USA Inc.

所在地

7777 Center Ave, Suite 500 Huntington Beach, CA 92647

代表者

代表取締役 柴 肇一

資本金

4,650万円

設立

2004年1月

事業内容

医薬関連製品の研究開発と製造販売

従業員数

26名(2016年9月末時点)
company name

RegeneTiss,Inc.

Headquarters and manufacturing base

1-4-1, Kawagishinishi, Okaya, Nagano 394-0046, Japan

Tokyo branch

1-7-20, Higashi, Kunitachi, Tokyo 186-0002, Japan

TEL

+81-42-577-7777

FAX

+81-42-577-7771

US Company

RegenTiss USA Inc.

Address

7777 Center Ave, Suite 500 Huntington Beach, CA 92647

President & CEO

Toshikazu Shiba

Capital

46,500,000 JPY

Establishment

January,2004

Business

Research, development, manufacturing and distribution of medical related products.

number of employees

26
Research, development and manufacturing base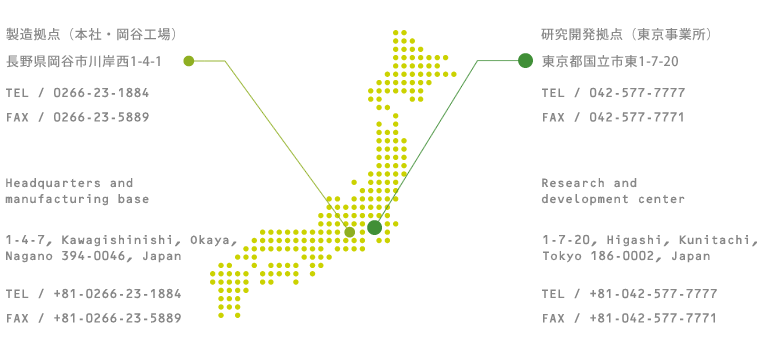 US Company
RegeneTiss USA Inc.
7777 Center Ave, Suite 500 Huntington Beach, CA 92647
History
Years 2001-04
Adopted Ministry of Education's "Innovative New Technology Development Research Proposal Public Offering System"
Years 2003-05
Adopted New Energy and Industrial Technology Development Organization's (NEDO: Independent administrative agency) Industrial technology practical development project
Year 2004
Jan
Established RegeneTiss, Inc.
Mar
Opened Tokyo office
Year 2005
Apr
Received the 5th Bio Business Competition Japan Excellence Award
Oct
Newly established GMP compliant factory in Okaya City, Nagano prefecture
Year 2006
Dec
Received approval for manufacturing and manufacturing/sales business of quasi-drugs and cosmetics
Year 2007
Adopted Organization for Small & Medium Enterprises and Regional Innovation (SME support: Independent administration agency) "SME/Venture Challenge Support Project"
Oct
Winner of the Business Plan Contest 2007 organized by the Technology Advanced Metropolitan Area (Kanto Economic Industry Bureau Director's Award)
Year 2008
Nov
Tokyo office (including laboratory) moved to Koganei City
Year 2009
Oct
Winner of the Japan Bio Venture Award (Fuji Sankei Business Eye Award)
Dec
Winner of the 7th Tama Blue Green Award (Excellence Award).
Received Special prize (Kanto Bureau of Economy, Trade and Industry Award)
Year 2011
Feb
Winner of the Japan Venture Awards JVA Jury Special Award (University-initiated Venture Special Award)
Year 2013
Mar
Year 2013 Best Company Award System, Best Emerging Company Award (Tokyo Metropolitan Shinkin Bank Association)
Year 2014
Dec
Moved Tokyo office from Koganei City to Kunitachi City
Origin of company logo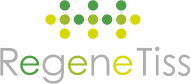 Although polyphosphate is a simple phosphate polymer, it symbolizes the chemical formula of its basic repeated unit, therefore it has been used for our company logo design. In addition, as a company contributing to health care, we have used three shades of green color to symbolically represent the development of "sprout" of novel technologies and products.
General formula of polyphosphate
If phosphate (PO3) is regarded as one unit, then polyphosphate is many phosphate units linked to become a long chain. The polyphosphate chain length can consist of 3 to 1000 phosphate units linked together. In commonly used cosmetics and quasi-drugs, sodium polyphosphate complex is used. The sodium salt is not acidic so it becomes neutral when dissolved in water.